Winter is coming… oh wait… it's already here! Our seasonal gelato and pastry recipes will brighten even the darkest of your winter days.
Cookies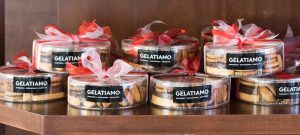 Our assorted cookie boxes are decorated for the holiday season. They're perfect for grabbing on the go or giving as a gift (they make the best stocking stuffer).
Pastries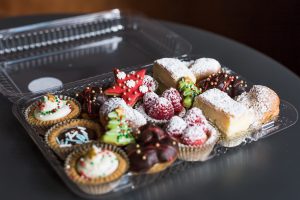 We have  small petite four boxes available for in-store purchase from now until Christmas Eve. Treat yourself and your coworkers to something extra special.
Panettone
Of course we also have our famous panettone available for in-store purchase until supplies last. It is going fast though so hurry in to buy yours.
Mini Gelato Cakes
Our zabajone (marsala wine custard) gelato layered on our panettone creates an absolutely delicious flavor!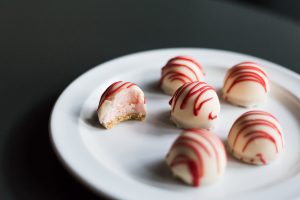 These mini gelato cakes will only be available while panettone supplies last. Be sure to try this unique recipe before it's gone!
Bon-bons

Peppermint semifreddo covered in white chocolate result in a fresh and creamy bon-bon.
Gelato
Peppermint (also Pagliacci's seasonal gelato recipe): A fresh and creamy gelato with crushed candy canes throughout for added crunch.
Zabajone (Marsala Wine Custard): Marsala wine is perfectly blended with creme, milk and egg yolk for an unique and incredibly delicious result. You won't find this recipe anywhere else!
Chocolate Grand Marnier: Chocolate, Grand Marnier and candied orange bits throughout, what's not to love?
Eggnog (only available until the end of the year): Velvety and rich, it's not the holidays without this gelato!
Cinnamon: An amazingly creamy gelato. Try it as a milkshake, you won't regret it!
Chilli Chocolate: With the cold weather, a gelato with a little spice is perfect.