On Wednesday, October 26, Gelatiamo will celebrate its 20-year anniversary by offering customers gelato at its original 1996 prices. It's Maria's nod to tradition, and her passion for both Italy and the Pacific Northwest. Maria Coassin opened the doors of Gelatiamo on downtown Seattle's Third and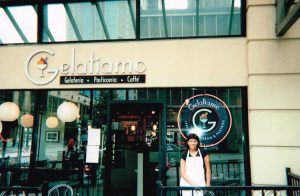 Union Streets in 1996. At the time, Benaroya Hall and Wild Ginger were still ideas in the making. A recent transplant in a city she would come to call home, Maria had combined the 200 year-old traditions of her family's bakery in Maniago, Italy and her own extensive studies under master gelato maker, Pino Scaringella to bring to Seattle a taste of her Italian heritage and the art and science of perfect gelato.
The Art of Perfect Gelato
Maria founded Gelatiamo on two primary values, which she has upheld through the years: The quality and craftsmanship of her desserts and an uncompromising desire to create each recipe from only natural or organic, locally-sourced and responsibly-grown ingredients. It's a difference you can taste.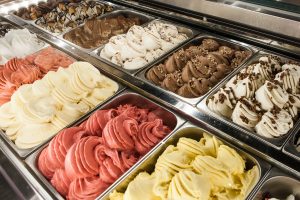 "Creating gelato is an exacting formula, not just a tasting experience," explains Maria. "You can't just say 'a little more sugar or a little more strawberry'. We refer to it as the 'art and science' of perfect gelato because a true gelato recipe requires a refined equation to balance each ingredient in the process. Using only fresh, raw ingredients means each batch must be carefully monitored."
Each day, Gelatiamo crafts its small-batch recipes in the basement of their store. The kitchen team starts with fresh, seasonal ingredients purchased from Pike Place Market and vendors whose partnerships Maria developed over years of seeking the highest quality. For years she has purchased organic milk from Fresh Breeze Farms and this summer she began sourcing seasonal fruits such as cherries and peaches from Tonnemaker Farms. Both farms are Salmon-Safe Certified.
Tradition Meets a New Home
Inside Gelatiamo's cafe on the corner of Third and Union in Downtown Seattle, patrons are met with glowing cases of pastries, cakes and gelato, accented with a welcoming staff. It's the type of place where tradition shines, with coffee and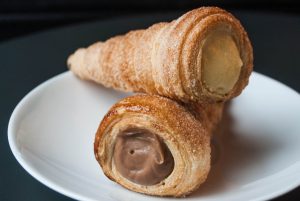 pastries delivered to your table on a tray, which is authentic to the Italian gelateria experience. A recent remodel by Floisand Studio Architects modernized the space, better showcasing Gelatiamo's products, allowing better flow for staff and customers and showcasing Maria's history.
---
We're celebrating the 20th anniversary of Gelatiamo! Founded by Maria Coassin in the heart of downtown Seattle, Gelatiamo is the art of perfect gelato and Italian pastries. Each of our recipes is skillfully developed by Maria following authentic Italian traditions, and inspired by her love of Seattle. Throughout this year we'll feature stories, people, partners and milestones that have been a significant part of our history. Come, enjoy gelato with us!